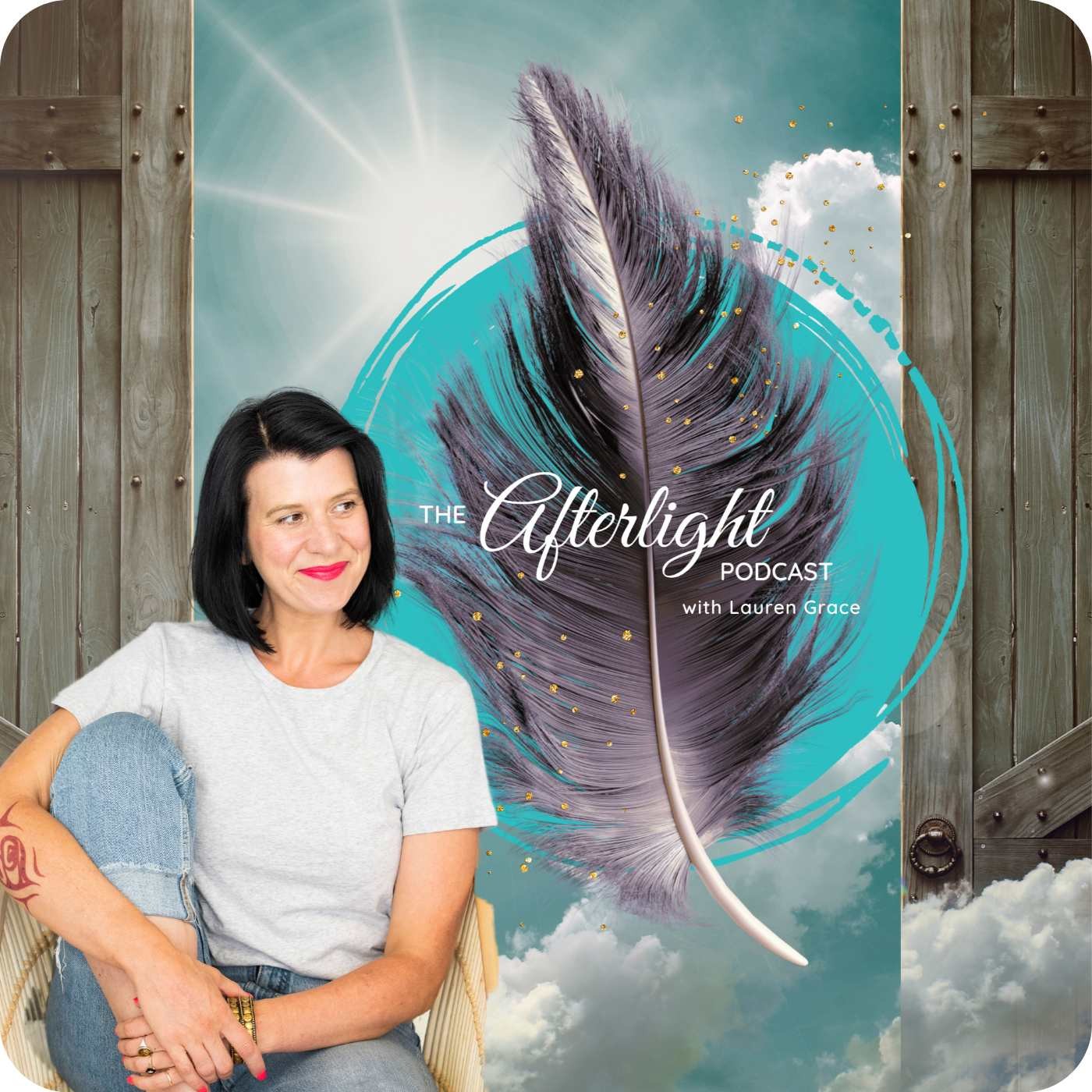 Welcome to The Afterlight Podcast with host Lauren Grace, a spiritual journey full of stories and conversations that prove we're never alone. Exploring modalities like astrology, divination, angels and the afterlife, past lives, mediumship, magick, and more, Lauren helps listeners develop spiritually and expand their awareness. What sets The Afterlight Podcast apart is Lauren's gift for interviewing spiritual coaches, authors, healers, and everyday people who have had extraordinary spiritual experiences. As a gifted interviewer, Lauren is deeply committed to her own journey and her listeners' journeys. From swapping stories to deep dives into specific modalities, each conversation offers listeners a unique perspective on the spiritual journey. Her thought-provoking questions and transparent storytelling will inspire and heal, leaving you feeling connected to the spiritual realm and empowered in your own life. Join Lauren and her guests on this magical journey and let The Afterlight Podcast be your guide.
Episodes
Sunday Sep 03, 2023
Sunday Sep 03, 2023
What to do when your mind is spiralling with Natasha Rocha
If you're struggling with stress or anxiety, this mini-episode is for you.
Join Lauren Grace and the amazing Natasha Rocha as they discuss practical tips and techniques to help you navigate moments of anxiety, stress, and overwhelm and regain a sense of inner peace and calm.
Listen to: What to do when your mind is spiralling with Natasha Rocha.
Tune in to The Afterlight Podcast with Lauren Grace, and let's explore this important topic together.
This episode is an excerpt from our full-length episode:
Soul blueprints, the magic of the Akashic records and healing with craniosacral therapy with Natasha Rocha
Listen here:
https://www.podbean.com/eas/pb-dnj6r-13bf364
"I started The Afterlight Podcast after a significant change in my life and felt ready to return to my spiritual journey. This podcast focuses on creating a safe space where listeners can feel motivated and inspired to look at the world from new and different perspectives. This podcast aims to remind you, my dear listener, that you are never alone and that help and support are only a thought away."
I am an Evidential Medium and Seer.
I work with professionals to help them make empowered decisions to help them get to where they want to go by connecting intuitively and clairvoyantly with their Spirit Guides and Angels and their passed-over loved ones.
I am a channel of the light and work with Spirit Guides, Angels, the Higher-self, and passed-over loves ones to provide you with support, clarity and encouragement. Using Oracle cards, mediumship and clairvoyance, my readings will leave you feeling comforted and empowered.
I have various reading options available, ranging from 30-minute readings to 60-minute readings to group sessions. I also work with professionals to help them clarify business and life purposes.
Book a reading here:
https://laurengraceinspirations.com/soul-deep-session/
I also work as a workshop facilitator and business and life mentor.
I also support small to medium-sized business owners and service providers.
Over the years (20+), I have worked in radio, online, events, management, marketing, sales, and more, and I can provide guidance and training around these topics.
Find more information here: https://laurengraceinspirations.com/support-for-business/
Additionally, you can find out more about Lauren here.
Book a reading here: https://laurengraceinspirations.com/soul-deep-session
Website: https://laurengraceinspirations.com
Portfolio: https://laurengraceinspirations.com/portfolio
Email: Lauren@LaurenGraceInspirations.com 
To be a guest on The Afterlight Podcast.
The Afterlight is a Spiritual podcast on Divination, Angels, Mediumship, Magick and more. 
Contact The Afterlight
To be a guest, apply here:
https://theafterlightinstitute.com/apply-to-be-our-guest/
Facebook:
https://www.facebook.com/WelcometoTheAfterlight
Instagram:
https://www.instagram.com/the.afterlight/
Meet Natasha
Natasha Rocha has always been interested in understanding diverse customs, cultures, and beliefs. She believes that our culture and belief systems determine our perceptions of the natural order of things. This, in turn, determines the roles we play in our relationships and in all areas of our lives, including the relationship with ourselves.
On a soul level, it is interesting that she chose to be born in South Africa to a Portuguese family, as Africa contains a wide variety of cultures, beliefs, and religions. Fortunate enough to be born into a fifth generation, spiritually-gifted, and awakened family, she developed her spiritual abilities in a completely safe and encouraging environment. Living in South Africa exposed her to the good, the bad, and the downright ugly of the spiritual realm.
Wanting to explore this world a little further, at the age of 21, she set off to travel Europe, to learn and experience other cultures firsthand. She found herself settling in Edinburgh, Scotland where she lived for 13 years, using it as a base while visiting other European countries. She then moved to Canada for 10 years. She now resides back in Scotland with her family and two dogs.
Never in a million years did she think that she would run a spiritually-based business, so she jumped into the corporate world. The downturn in the oil and gas market provided her with the opportunity to switch careers. So, she embraced her deep passion for helping others on a full-time basis. One of the biggest turning points in her life was the introduction to the Akashic records. In her ideal world, alternative therapies and western medicine collaborate and complement each other. She decided to formalize her hands-on healing abilities by diving into Reiki and Craniosacral work.
She founded Raising the Vibes Academy of Consciousness - an online spiritual learning membership that allows people to develop their existing spiritual abilities (their spidey senses). One of her purposes in life is to empower people with the tools they need to help them move forward in their relationships and in their businesses while living their life's purpose. She is grateful for all the twists and turns she has experienced thus far. Life truly is fascinating!
SPECIAL OFFER
20% off your first private session on the subject of the Akashic records with Natasha
The discount code is AFTERLIGHT20 
Connect with Natasha
YouTube:@raisingthevibes9455
Instagram:
Facebook:facebook.com/raisingthevibesacademy  
Website: www.raisingthevibes.com