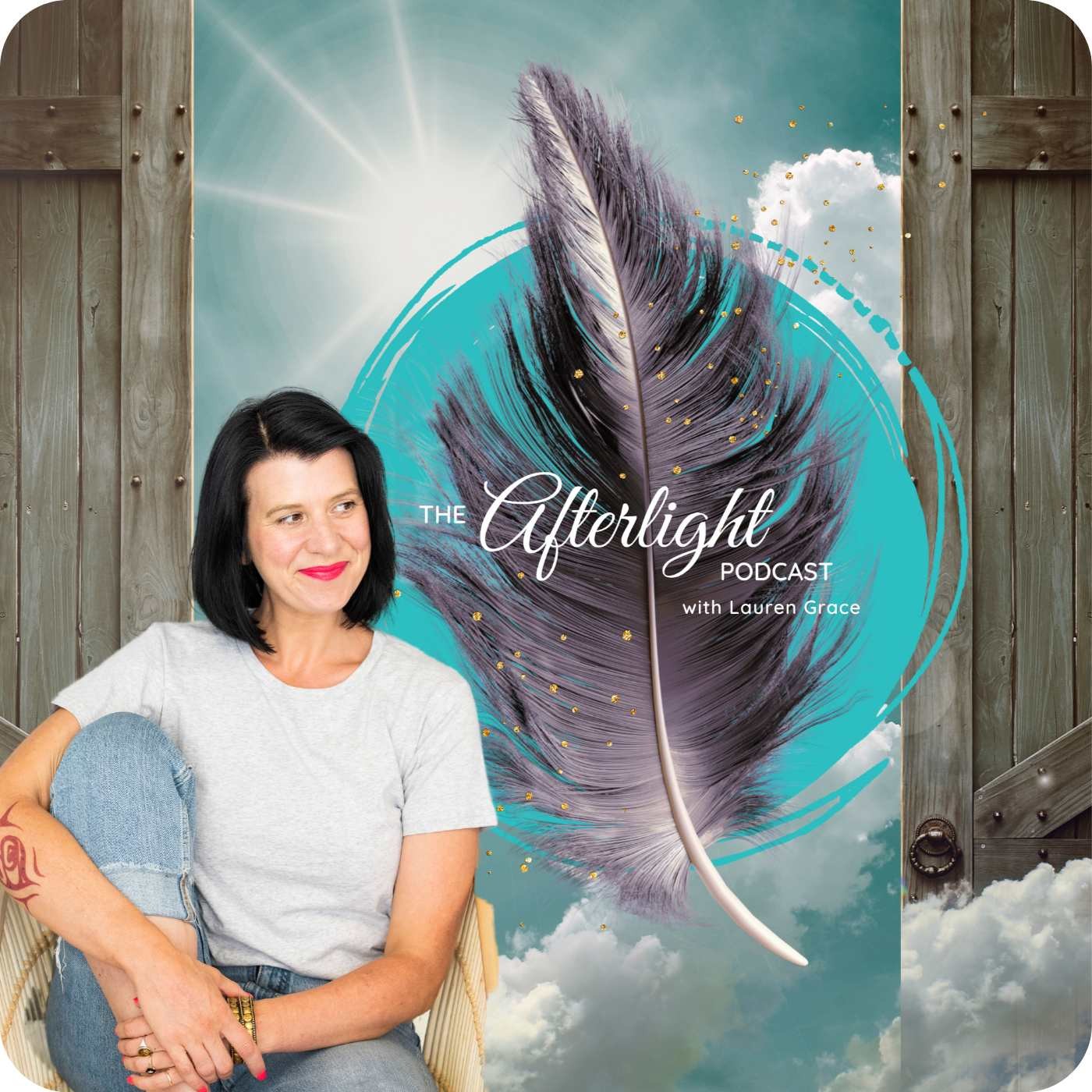 Welcome to The Afterlight Podcast with host Lauren Grace, a spiritual journey full of stories and conversations that prove we're never alone. Exploring modalities like astrology, divination, angels and the afterlife, past lives, mediumship, magick, and more, Lauren helps listeners develop spiritually and expand their awareness. What sets The Afterlight Podcast apart is Lauren's gift for interviewing spiritual coaches, authors, healers, and everyday people who have had extraordinary spiritual experiences. As a gifted interviewer, Lauren is deeply committed to her own journey and her listeners' journeys. From swapping stories to deep dives into specific modalities, each conversation offers listeners a unique perspective on the spiritual journey. Her thought-provoking questions and transparent storytelling will inspire and heal, leaving you feeling connected to the spiritual realm and empowered in your own life. Join Lauren and her guests on this magical journey and let The Afterlight Podcast be your guide.
Episodes
Thursday May 04, 2023
Thursday May 04, 2023
Ritual magick, exploring the darkness and the light, the power of past lives and growing on our soul's journey with Michelle Mary-Sophia Lee
Check out the latest episode of The Afterlight podcast with Lauren Grace featuring Michelle Mary-Sophia Lee! In this episode, we dive into the world of ritual magick and explore the darkness and the light of our soul's journey, including the power of past lives and growing through life's experiences. 
Join us and discover the differences between ritual magick and illusion, learn that our spirit guides are reflections of ourselves, how to declare your intentions, how to step into your power and so much more. 
Don't miss out on this captivating conversation will leave you changed! 
This episode is sponsored by Lauren Grace Inspirations
"I started The Afterlight Podcast after a significant change in my life and felt ready to return to my spiritual journey. This podcast focuses on creating a safe space where listeners can feel motivated and inspired to look at the world from new and different perspectives. This podcast aims to remind you, my dear listener, that you are never alone and that help and support are only a thought away."
I am an Evidential Medium and Seer.
I work with professionals to help them make empowered decisions to help them get to where they want to go by connecting intuitively and clairvoyantly with their Spirit Guides and Angels and their passed-over loved ones.
I am a channel of the light and work with Spirit Guides, Angels, the Higher-self, and passed-over loves ones to provide you with support, clarity and encouragement. Using Oracle cards, mediumship and clairvoyance, my readings will leave you feeling comforted and empowered.
I have various reading options available, ranging from 30-minute readings to 60-minute readings to group sessions. I also work with professionals to help them clarify business and life purposes.
Book a reading here:
https://laurengraceinspirations.com/soul-deep-session/
I also work as a workshop facilitator and business and life mentor.
I also support small to medium-sized business owners and service providers.
Over the years (20+), I have worked in radio, online, events, management, marketing, sales, and more, and I can provide guidance and training around these topics.
Find more information here: https://laurengraceinspirations.com/support-for-business/
Additionally, you can find out more about Lauren here.
Book a reading here: https://laurengraceinspirations.com/soul-deep-session
Website: https://laurengraceinspirations.com
Portfolio: https://laurengraceinspirations.com/portfolio
Email: Lauren@LaurenGraceInspirations.com 
To be a guest on The Afterlight Podcast.
The Afterlight is a Spiritual podcast on Divination, Angels, Mediumship, Magick and more. 
Contact The Afterlight
To be a guest, apply here:
https://theafterlightinstitute.com/apply-to-be-our-guest/
Facebook:
https://www.facebook.com/WelcometoTheAfterlight
Instagram:
https://www.instagram.com/the.afterlight/
Meet Michelle
Michelle Mary-Sophia Lee is the co-founder, with her daughter Megan Camille, of The Sophia Mystery School for Extraordinary People. She's a women's empowerment mentor and recently learned during an Ayahuasca journey that she carries the Mary-Sophia codex. 
She started on her soul's path of empowering women by helping them to reclaim their power in the birthing process 27 years ago.
Michelle is a mystic, psychic, and a direct conduit of Mary-Sophia, Mother of Jesus. She deeply understands that for humanity to thrive, women must first thrive.
Michelle's Soul's purpose and mission is to transform the female experience on Earth by helping women awaken to and embody their divinity, value, and soul's purpose. Her clients skyrocket their self-worth and confidence which then manifests as financial freedom, purposeful, meaningful, and joyful living in all ways.
Women working with Michelle learn to access, trust, and follow their inner wisdom to create the life that feeds their soul.
Here is the free gift to our Higher Self Wisdom Prayer.
https://thesophiamysteryschool.com/higherselfwisdomprayer/
Connect:
www.thesophiamysteryschool.com