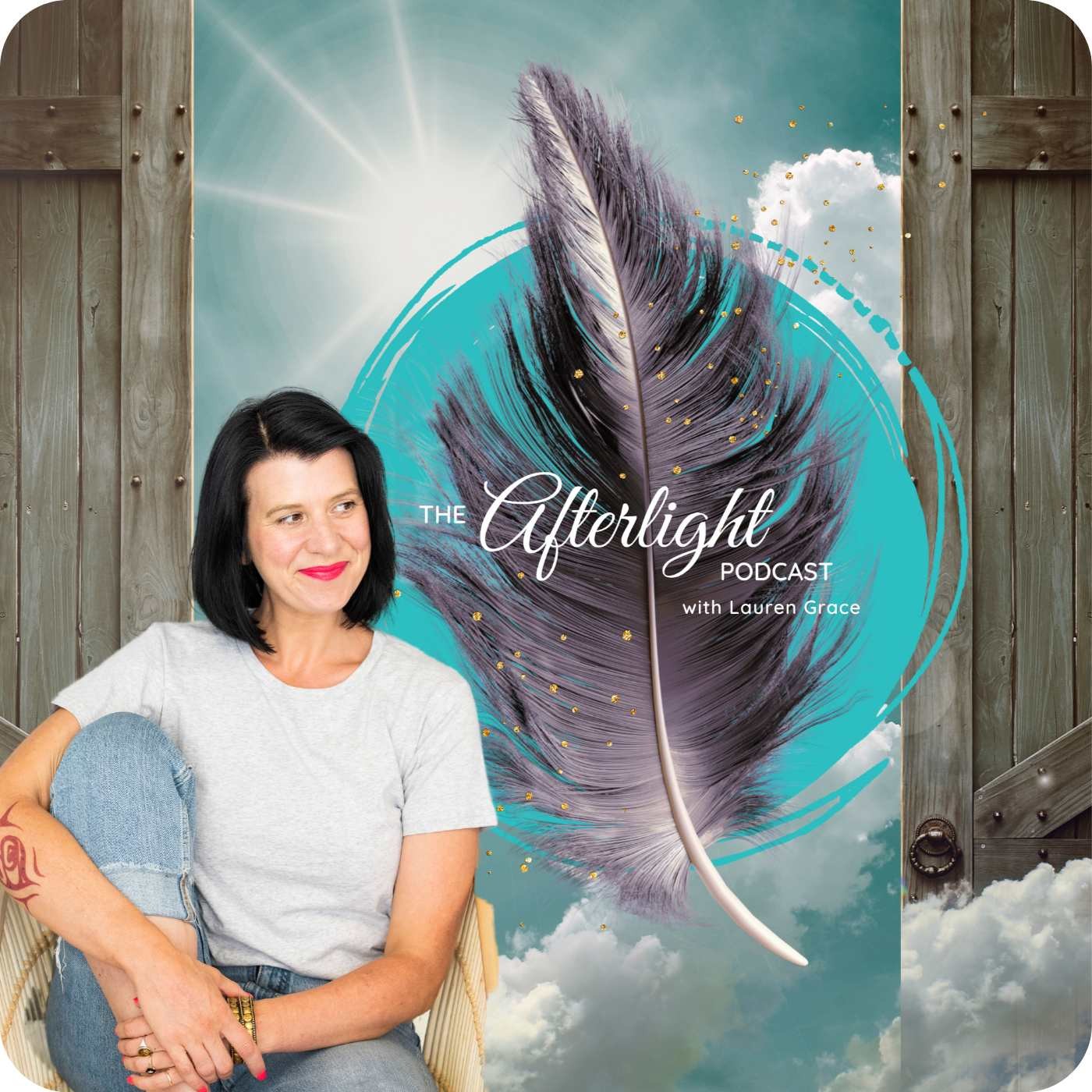 Welcome to The Afterlight Podcast with host Lauren Grace, a spiritual journey full of stories and conversations that prove we're never alone. Exploring modalities like astrology, divination, angels and the afterlife, past lives, mediumship, magick, and more, Lauren helps listeners develop spiritually and expand their awareness. What sets The Afterlight Podcast apart is Lauren's gift for interviewing spiritual coaches, authors, healers, and everyday people who have had extraordinary spiritual experiences. As a gifted interviewer, Lauren is deeply committed to her own journey and her listeners' journeys. From swapping stories to deep dives into specific modalities, each conversation offers listeners a unique perspective on the spiritual journey. Her thought-provoking questions and transparent storytelling will inspire and heal, leaving you feeling connected to the spiritual realm and empowered in your own life. Join Lauren and her guests on this magical journey and let The Afterlight Podcast be your guide.
Episodes
Tuesday Sep 12, 2023
Tuesday Sep 12, 2023
Expanding your Spirit's purpose with Mark Anthony
Discover the keys to expanding your Spirit's purpose and unleashing your true potential with Mark Anthony on The Afterlight podcast with Lauren Grace. 
In this episode, we explore the power of Thetahealing, overcoming limiting beliefs, and tapping into your inner guidance system. Don't miss out on this eye-opening conversation.
This is an excerpt from our full-length episode:
Rising above consciousness, mastering the physical body and using Thetahealing to heal and step into your Spirit's purpose with Mark Anthony
Listen here:
https://www.podbean.com/eas/pb-5q3qq-13d2430
This episode is sponsored by Lauren Grace Inspirations
"I started The Afterlight Podcast after a significant change in my life and felt ready to return to my spiritual journey. This podcast focuses on creating a safe space where listeners can feel motivated and inspired to look at the world from new and different perspectives. This podcast aims to remind you, my dear listener, that you are never alone and that help and support are only a thought away."
I am an Evidential Medium and Seer.
I work with professionals to help them make empowered decisions to help them get to where they want to go by connecting intuitively and clairvoyantly with their Spirit Guides and Angels and their passed-over loved ones.
I am a channel of the light and work with Spirit Guides, Angels, the Higher-self, and passed-over loves ones to provide you with support, clarity and encouragement. Using Oracle cards, mediumship and clairvoyance, my readings will leave you feeling comforted and empowered.
I have various reading options available, ranging from 30-minute readings to 60-minute readings to group sessions. I also work with professionals to help them clarify business and life purposes.
Book a reading here:
https://laurengraceinspirations.com/soul-deep-session/
I also work as a workshop facilitator and business and life mentor.
I also support small to medium-sized business owners and service providers.
Over the years (20+), I have worked in radio, online, events, management, marketing, sales, and more, and I can provide guidance and training around these topics.
Find more information here: https://laurengraceinspirations.com/support-for-business/
Additionally, you can find out more about Lauren here.
Book a reading here: https://laurengraceinspirations.com/soul-deep-session
Website: https://laurengraceinspirations.com
Portfolio: https://laurengraceinspirations.com/portfolio
Email: Lauren@LaurenGraceInspirations.com 
To be a guest on The Afterlight Podcast.
The Afterlight is a Spiritual podcast on Divination, Angels, Mediumship, Magick and more. 
Contact The Afterlight
To be a guest, apply here:
https://theafterlightinstitute.com/apply-to-be-our-guest/
Facebook:
https://www.facebook.com/WelcometoTheAfterlight
Instagram:
https://www.instagram.com/the.afterlight/
Meet Mark
Mark Anthony is an International Teacher and Speaker and is the founder of CoCreation. CoCreation is one of the worlds leading Thetahealing training organisation.  Seventeen years ago he was diagnosed with an incurable infection - Osteomyelitis, he was then introduced to Thetahealing and it transformed his life. 

As a teacher and speaker he empowers people to heal and transform their lives and create lives they love.  He has been invited to speak and train in more then 20 countries and has the ability to bridge the gap between science and spirituality.

Thetahealing is a simple technique and meditation that allows you to create incredible changes in your life quickly and effortlessly. Mark has helped people heal from chronic stress, limiting beliefs, fears, anxieties, to improving and attracting loving relationships, creating success, financial abundance,  and  finding their life purpose
Connect
http://www.facebook.com/thetahealingaustralia
https://www.youtube.com/channel/UCFe5Ny141nuNgKKtIsmU15A
http://www.thetahealing.net.au
https://www.instagram.com/thetahealingoz/?hl=en