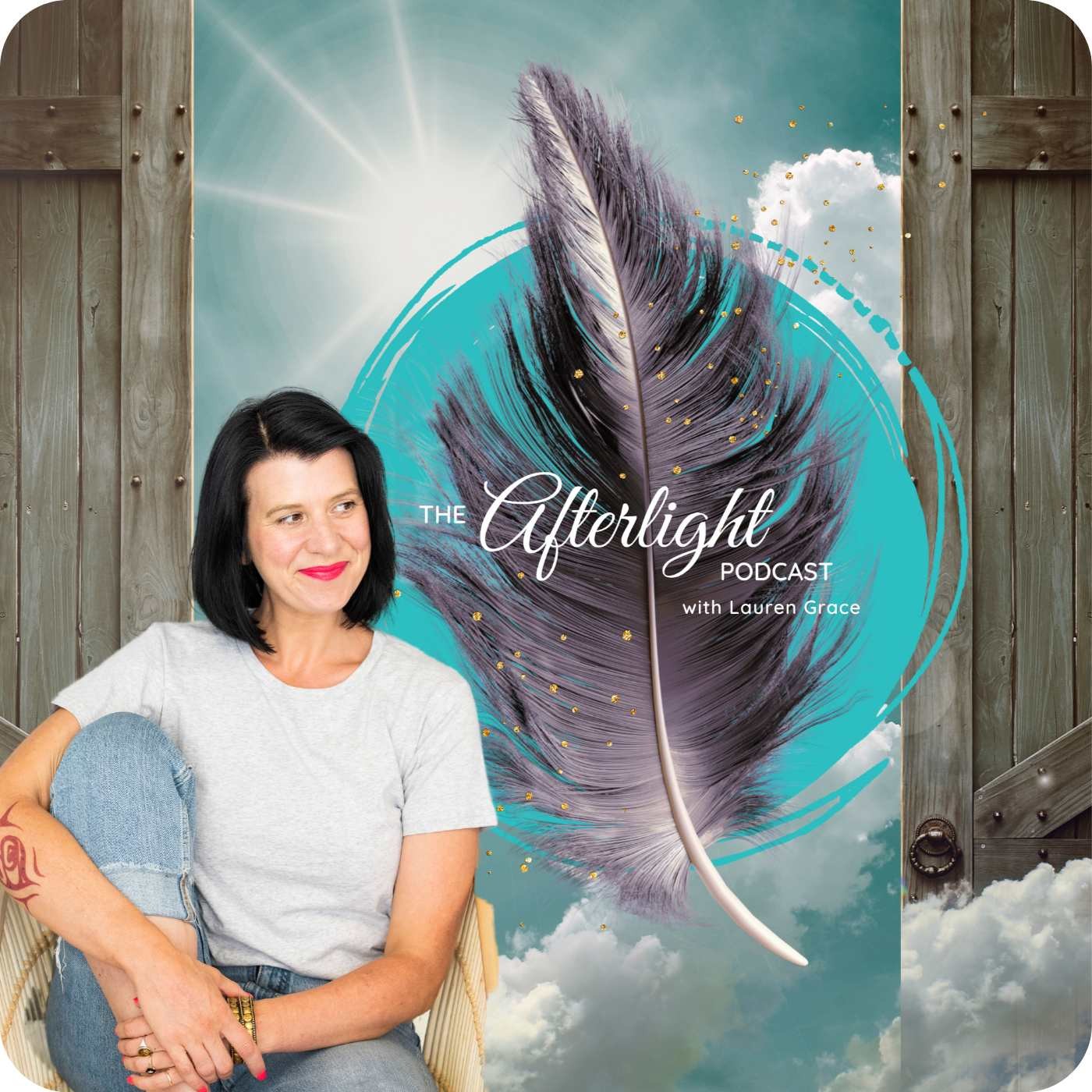 Welcome to The Afterlight Podcast with host Lauren Grace, a spiritual journey full of stories and conversations that prove we're never alone. Exploring modalities like astrology, divination, angels and the afterlife, past lives, mediumship, magick, and more, Lauren helps listeners develop spiritually and expand their awareness. What sets The Afterlight Podcast apart is Lauren's gift for interviewing spiritual coaches, authors, healers, and everyday people who have had extraordinary spiritual experiences. As a gifted interviewer, Lauren is deeply committed to her own journey and her listeners' journeys. From swapping stories to deep dives into specific modalities, each conversation offers listeners a unique perspective on the spiritual journey. Her thought-provoking questions and transparent storytelling will inspire and heal, leaving you feeling connected to the spiritual realm and empowered in your own life. Join Lauren and her guests on this magical journey and let The Afterlight Podcast be your guide.
Episodes
Sunday May 14, 2023
Sunday May 14, 2023
Connecting with the elementals with Martina Bilek
Hey, it's Lauren Grace from The Afterlight Podcast, and I'm excited to share our latest mini-episode: "Connecting with the elementals with Martina Bilek."
In this episode, Martina and I explore the magical world of elementals.
As someone who feels a deep connection to nature and the energy around us, I found this conversation with Martina to be incredibly inspiring and enlightening. Learning about the elementals and their role in the natural world was a beautiful reminder of the interconnectedness of all things.
Thank you for tuning in to The Afterlight Podcast!
This is an excerpt from our full-length episode:
A soul-stirring conversation on Tarot, the elementals, psychic abilities and mediumship with Martina Bilek
Listen here:
https://www.podbean.com/eas/pb-s9zaw-13bf302
"I started The Afterlight Podcast after a significant change in my life and felt ready to return to my spiritual journey. This podcast focuses on creating a safe space where listeners can feel motivated and inspired to look at the world from new and different perspectives. This podcast aims to remind you, my dear listener, that you are never alone and that help and support are only a thought away."
I am an Evidential Medium and Seer.
I work with professionals to help them make empowered decisions to help them get to where they want to go by connecting intuitively and clairvoyantly with their Spirit Guides and Angels and their passed-over loved ones.
I am a channel of the light and work with Spirit Guides, Angels, the Higher-self, and passed-over loves ones to provide you with support, clarity and encouragement. Using Oracle cards, mediumship and clairvoyance, my readings will leave you feeling comforted and empowered.
I have various reading options available, ranging from 30-minute readings to 60-minute readings to group sessions. I also work with professionals to help them clarify business and life purposes.
Book a reading here:
https://laurengraceinspirations.com/soul-deep-session/
I also work as a workshop facilitator and business and life mentor.
I also support small to medium-sized business owners and service providers.
Over the years (20+), I have worked in radio, online, events, management, marketing, sales, and more, and I can provide guidance and training around these topics.
Find more information here: https://laurengraceinspirations.com/support-for-business/
Additionally, you can find out more about Lauren here.
Book a reading here: https://laurengraceinspirations.com/soul-deep-session
Website: https://laurengraceinspirations.com
Portfolio: https://laurengraceinspirations.com/portfolio
Email: Lauren@LaurenGraceInspirations.com 
To be a guest on The Afterlight Podcast.
The Afterlight is a Spiritual podcast on Divination, Angels, Mediumship, Magick and more. 
Contact The Afterlight
To be a guest, apply here:
https://theafterlightinstitute.com/apply-to-be-our-guest/
Facebook:
https://www.facebook.com/WelcometoTheAfterlight
Instagram:
https://www.instagram.com/the.afterlight/
Meet Martina in her own words
I am a Psychic Medium who practices tarot and oracle card readings, mediumship, spiritual communication, pendulum dowsing, akashic reading (past life readings), sound bathing, reiki, chakra reading, spiritual guidance, nature reading, omen reading, and channelling. Now offering group bookings, retreats, and events – by enquiry only.
As a psychic medium passionate about education and self-development, I continually upskill myself, adding new modalities and a deeper understanding to my practices.
I am so passionate about psychic and self-development that I have created my own app especially for the everyday person. The app will assist them in understanding and developing their own psychic abilities, create daily spiritual and self care habits such as meditation and grounding, and boost their confidence. My app Guide To Light is due for release in late 2022. I am also offering a free 9 week meditation course for those who sign up now. 
Martina is joining me today to talk creating your own spiritual path, developing your psychic abilities, mediumship, how to discern information, the power of spirit connections and backing your big ideas.
Guide to Light - for app installs 
Guide by Light - For bookings and events
For the latest events and workshops join my newsletter:
https://mailchi.mp/3e4bdb055c5a/list-of-light