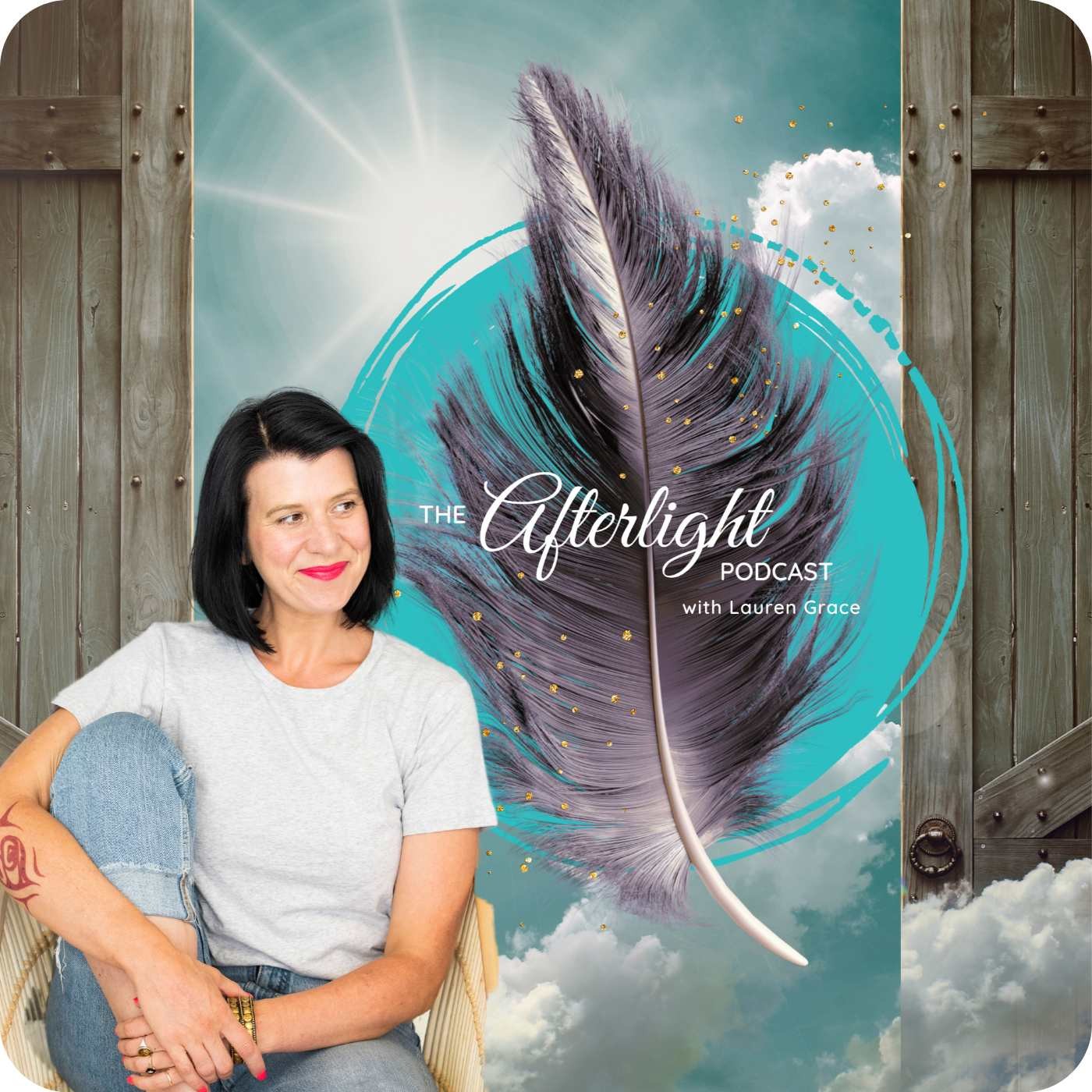 Welcome to The Afterlight Podcast with host Lauren Grace, a spiritual journey full of stories and conversations that prove we're never alone. Exploring modalities like astrology, divination, angels and the afterlife, past lives, mediumship, magick, and more, Lauren helps listeners develop spiritually and expand their awareness. What sets The Afterlight Podcast apart is Lauren's gift for interviewing spiritual coaches, authors, healers, and everyday people who have had extraordinary spiritual experiences. As a gifted interviewer, Lauren is deeply committed to her own journey and her listeners' journeys. From swapping stories to deep dives into specific modalities, each conversation offers listeners a unique perspective on the spiritual journey. Her thought-provoking questions and transparent storytelling will inspire and heal, leaving you feeling connected to the spiritual realm and empowered in your own life. Join Lauren and her guests on this magical journey and let The Afterlight Podcast be your guide.
Episodes
Sunday Sep 25, 2022
Sunday Sep 25, 2022
Understanding how getting dressed each morning can change your whole day with Thể Oanh
This is an excerpt from our full-length episode:
Understanding colours and fabrics for energy work, becoming more mindful, the golden ratio and sacred geometry, with Thể Oanh.
Listen here:
https://theafterlight.podbean.com/e/understanding-colours-and-fabrics-for-energy-work-becoming-more-mindful-the-golden-ratio-and-sacred-geometry-with-th%e1%bb%83-oanh/?token=a7733d1bbad71b513b7de6b23296d0f4
This episode has been sponsored by The Afterlight Institute. Ignite the light, magic and miracles within. 
The Afterlight Institute is a community of teachers and students seeking to expand their spiritual gifts and inner wisdom on the road to illuminating their forgotten selves. They offer products, resources and experiences aimed at empowering and encouraging the soul within to grow in light and love.
If you are a spiritual teacher or practitioner that has been building your skills and knowledge for years and you are ready to share this wisdom with the world, The Afterlight Institute would like you to apply to become a course creator. 
Apply here: 
Follow the Afterlight Institute
Website: https://theafterlightinstitute.com
Instagram: https://www.instagram.com/theafterlightinstitute
Facebook: https://www.facebook.com/theafterlightinstitute
TikTok: https://www.tiktok.com/@theafterlighpodcast
YouTube: https://www.youtube.com/channel/UCeJICw-Lu0ORxYWJGT7QTLw
Meet our guest:
Thể Oanh, pronounced like Tey'One (Oanh 'ONE' for short), is a Multidimensional Transformation Coach & Oracle, guided by her Fierce Guardian Angel, she serves as a Spiritual Guide & Tarot Reader for her querents. She is a certified Life Coach, NLP Practitioner & Image Consultant with over a decade of experience as a highly skilled makeup artist & hair stylist, who specializes in inner & outer beauty.
Oanh is deeply passionate about holding sacred space & helping as many souls as possible, realize & embody their limitless potential. She wants everyone she connects with, to embrace their Divinity, as to gain unwavering confidence, look sophisticated & to reclaim their sovereignty. Oanh lovingly co-created with Source & her Angel, The 6 Petals Of Life™ & the Thrive Evolution Method™, which uses Sacred Geometry as a blueprint & compass, to guide us on how to consciously create a balanced life we love & deserve whilst feeling sexy.
Oanh is an eternal student, animal lover, humanitarian, environmentalist & a multifaceted artist with an insatiable appetite to create beauty in many forms.
Today One is joining me to talk about her Spiritual journey, life after life & how even in our darkest days, we have a choice to walk through our refining fire to have a rebirth experience. 
IG: https://www.instagram.com/the.one.coach.143
FB Group: https://www.facebook.com/groups/143.CrystalClearSolutions
LinkedIn: https://www.linkedin.com/in/th%E1%BB%83-oanh-coach-4b650a17b/
Oanh is also Vancouver's Branch Director for Happy Healthy Women. https://hhwglobal.com/collections/branch-directors-1/products/oanh-nguyen-br-vancouver-bc-br
Previous episode:
Fierce guardian angels, incredible stories of life after life and walking through the darkest days with Thể Oanh 
Listen here:
https://theafterlight.podbean.com/e/fierce-guardian-angels-incredible-stories-of-life-after-life-and-walking-through-the-darkest-days-with-th%e1%bb%83-oanh/?token=5c33189d0b2e7529865756d31cd63a4a
Meet your host, Lauren Grace
Lauren is the host of The Afterlight Podcast
Co-Founder of The Afterlight Institute
Owner/Operator of Rah Rah Consulting
"I started The Afterlight Podcast after a significant change in my life and felt that I was ready to get back on my spiritual journey. This podcast focuses on creating a safe space where listeners can feel motivated and inspired to look at the world from new and different perspectives. This podcast aims to remind you, my dear listener, that you are never alone and that help and support are only a thought away."
Through Rah Rah Consulting, Lauren is also a business and life mentor passionate about business and spirituality and combining the two. 
She LOVES working with spiritual women in business who want to motivate themselves to love their life, let the past go and grow their business and themselves.
Lauren currently offers:
One-on-one mentoring
Workshops
Keynotes
In-person or on video training
Passionate areas of focus for Lauren:
Business and life mentorship
Productivity and time management
Goal setting, habit building
Leadership + relationship building
Marketing and Sales
Content Creation
Strengthening your connection to Spirit
Manifesting the life you desire
Building a positive mindset
Growing in self-love
Creating time for self-care
Meditation 
Additionally, you can find out more about Lauren here.
Website: https://rahrahconsulting.com/
Portfolio: https://rahrahconsulting.com/portfolio/
Testimonials: https://rahrahconsulting.com/testimonials
Email: Info@RahRahConsulting.com 
To be a guest on The Afterlight Podcast
The Afterlight is a Spiritual podcast on Divination, Angels, Mediumship, Magick and more. 
Contact The Afterlight
To be a guest, apply here:
https://theafterlightinstitute.com/apply-to-be-our-guest/
Email:
Welcometotheafterlight@gmail.com
Facebook:
https://www.facebook.com/WelcometoTheAfterlight
Instagram:
https://www.instagram.com/the.afterlight/