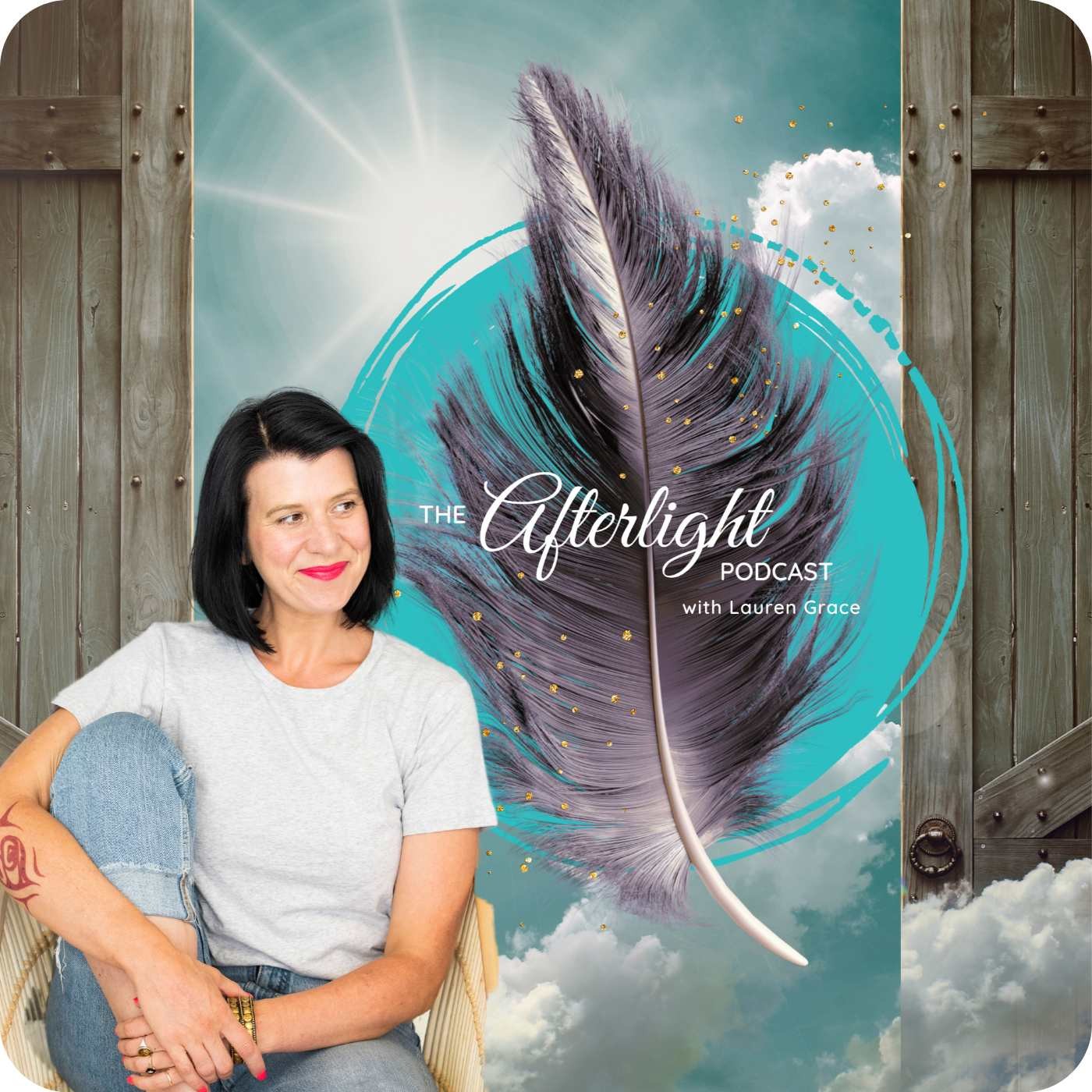 Welcome to The Afterlight Podcast with host Lauren Grace, a spiritual journey full of stories and conversations that prove we're never alone. Exploring modalities like astrology, divination, angels and the afterlife, past lives, mediumship, magick, and more, Lauren helps listeners develop spiritually and expand their awareness. What sets The Afterlight Podcast apart is Lauren's gift for interviewing spiritual coaches, authors, healers, and everyday people who have had extraordinary spiritual experiences. As a gifted interviewer, Lauren is deeply committed to her own journey and her listeners' journeys. From swapping stories to deep dives into specific modalities, each conversation offers listeners a unique perspective on the spiritual journey. Her thought-provoking questions and transparent storytelling will inspire and heal, leaving you feeling connected to the spiritual realm and empowered in your own life. Join Lauren and her guests on this magical journey and let The Afterlight Podcast be your guide.
Episodes
Thursday Oct 06, 2022
Thursday Oct 06, 2022
The power of Intuition and developing your psychic abilities with Paul Fenton-Smith
This episode has been sponsored by The Afterlight Institute. Ignite the light, magic and miracles within. 
The Afterlight Institute is a community of teachers and students seeking to expand their spiritual gifts and inner wisdom on the road to illuminating their forgotten selves. They offer products, resources and experiences aimed at empowering and encouraging the soul within to grow in light and love.
If you are a spiritual teacher or practitioner who has been building your skills and knowledge for years and are ready to share this wisdom with the world, The Afterlight Institute would like you to apply to become a course creator. 
Apply here: 
Follow the Afterlight Institute
Website: https://theafterlightinstitute.com
Instagram: https://www.instagram.com/theafterlightinstitute
Facebook: https://www.facebook.com/theafterlightinstitute
TikTok: https://www.tiktok.com/@theafterlighpodcast
YouTube: https://www.youtube.com/channel/UCeJICw-Lu0ORxYWJGT7QTLw
Meet Paul:
Counsellor and clairvoyant Paul Fenton-Smith is the author of twelve books on personal development. 
Paul has studied tarot card reading, astrology, psychic development, clinical hypnotherapy and counselling, combining these into his private practice. 
Paul received a diploma of clinical hypnotherapy in 1986, studied counselling in 1992 and received a Grad. Dip in counselling in 2016 (Western Sydney University). He also studied meditation and intuitive development in the UK in 1991.
Aside from his teaching commitments at the Academy, Paul runs a busy private practice in Sydney as a clairvoyant, counsellor and hypnotherapist and conducts courses internationally. 
Through practising and teaching intuitive studies for more than 40 years, Paul encourages his clients and students to believe only what they can see or experience for themselves.
Contact:
Website: www.paulfentonsmith.com
YouTube.   www.youtube.com/channel/UC56-Janjlnjzp911JHgLhjg
Instagram. @paulfentonsmith @tarotwithpaul  @astrologywithpaul
Meet your host
The host of The Afterlight is Lauren Grace
For the last 15 years, Lauren has worked in various related fields, including media, sales, events and marketing.
"I have been on my spiritual journey for most of my life, but quite seriously since 2002. It is a consuming passion for me. I have a background in radio broadcasting and decided to use my skills to develop a podcast. I aim to provide people with a platform to explore spirituality. The Afterlight podcast features a variety of guests with different views and perspectives."
Alongside hosting The Afterlight podcast, Lauren also provides one-on-one mentoring, facilitate workshops and creates custom courses in the areas of:
Self-Awareness
Self-Care
Time Management through the amazing Task Reduction System
Overwhelm and Stress Management
Leadership
Public Speaking
Mindset
Relationships and Communications
Social Media Marketing/Content Creation
Find Lauren at: https://rahrahconsulting.com
One-on-one mentoring with Lauren - Apply today!
https://rahrahconsulting.com/apply-mentoring/
About the Afterlight Podcast
The Afterlight is a Spiritual podcast full of stories and conversations that prove we're never alone.
Contact The Afterlight
To be a guest, apply here:
https://theafterlightinstitute.com/apply-to-be-our-guest/
Email:
Hello@Theafterlightinstitute.com
Facebook:
https://www.facebook.com/WelcometoTheAfterlight
Instagram:
https://www.instagram.com/the.afterlight/
Comments
(2)
To leave or reply to comments, please download free Podbean or
Yamiel, thank you so much for taking the time to leave a comment. I am so happy you like the podcast :) I hope it brings you lots of support along your journey. Lots of blessings to you and yours as well. - Lauren
Thanks a lot for your podcast, is amazing I hear it from Caracas Venezuela. I love the way you do your interviews, lot of blessings for you and your love ones.