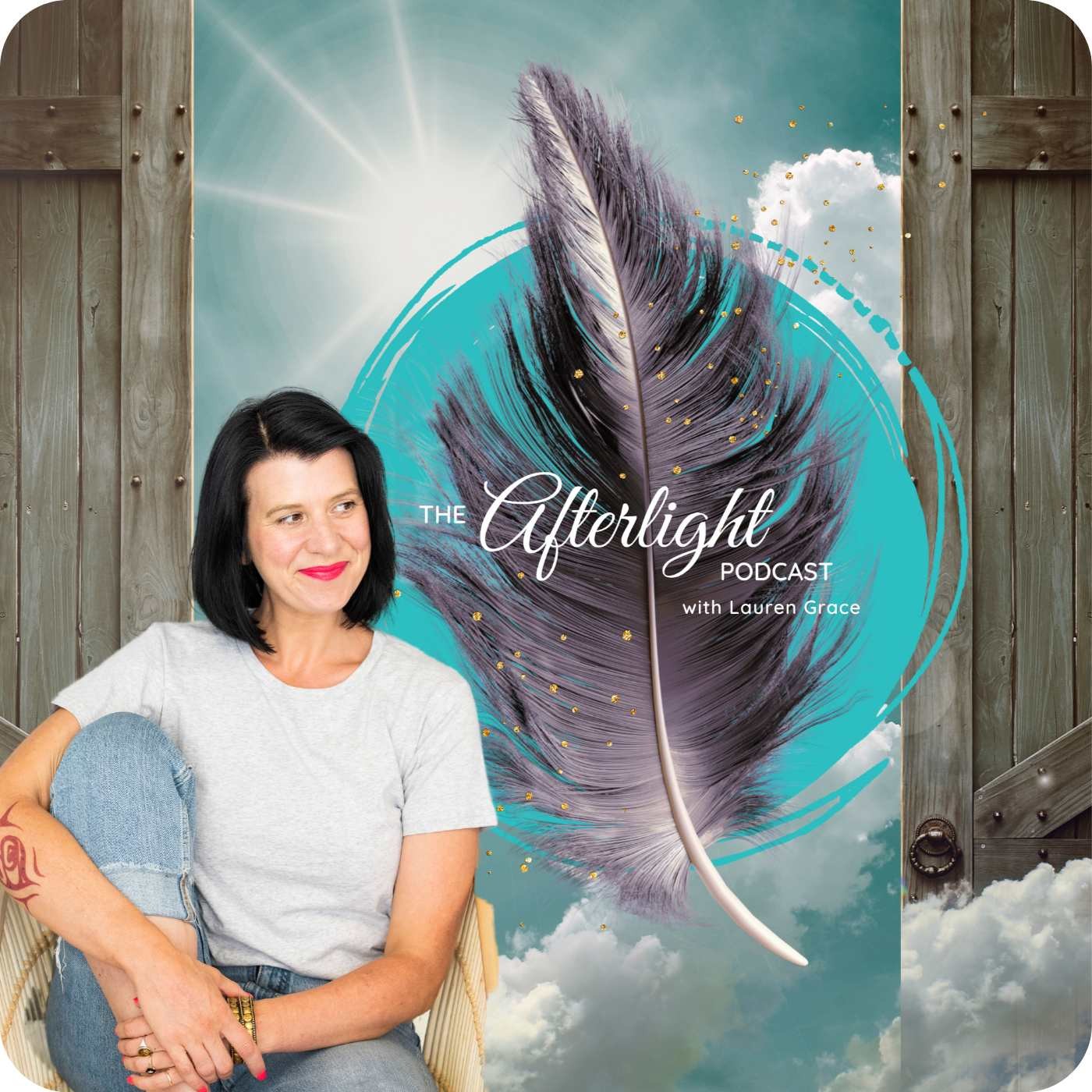 Welcome to The Afterlight Podcast with host Lauren Grace, a spiritual journey full of stories and conversations that prove we're never alone. Exploring modalities like astrology, divination, angels and the afterlife, past lives, mediumship, magick, and more, Lauren helps listeners develop spiritually and expand their awareness. What sets The Afterlight Podcast apart is Lauren's gift for interviewing spiritual coaches, authors, healers, and everyday people who have had extraordinary spiritual experiences. As a gifted interviewer, Lauren is deeply committed to her own journey and her listeners' journeys. From swapping stories to deep dives into specific modalities, each conversation offers listeners a unique perspective on the spiritual journey. Her thought-provoking questions and transparent storytelling will inspire and heal, leaving you feeling connected to the spiritual realm and empowered in your own life. Join Lauren and her guests on this magical journey and let The Afterlight Podcast be your guide.
Episodes
Tuesday Apr 11, 2023
Tuesday Apr 11, 2023
On this mini-episode of The Afterlight Podcast, host Lauren Grace welcomes special guest Michele Cempaka to discuss the intriguing topic of micro-dosing and plant medicine for mental health. 
Gain valuable knowledge on the different types of plant medicine available and how to safely and responsibly incorporate them into their own mental wellness routine. 
Whether you're interested in alternative healing modalities or simply curious about the potential benefits of plant medicine, this episode is a must-listen.
This episode is an excerpt from our full-length episode:
Listen to: Power animals, plant medicine, discerning truth and exploring shamanism with Michele Cempaka
Here: https://www.podbean.com/eas/pb-e4a2m-13b923b
"I started The Afterlight Podcast after a significant change in my life and felt ready to return to my spiritual journey. This podcast focuses on creating a safe space where listeners can feel motivated and inspired to look at the world from new and different perspectives. This podcast aims to remind you, my dear listener, that you are never alone and that help and support are only a thought away."
I am an Evidential Medium and Seer.
I work with professionals to help them make empowered decisions to help them get to where they want to go by connecting intuitively and clairvoyantly with their Spirit Guides and Angels and their passed-over loved ones.
I am a channel of the light and work with Spirit Guides, Angels, the Higher-self, and passed-over loves ones to provide you with support, clarity and encouragement. Using Oracle cards, mediumship and clairvoyance, my readings will leave you feeling comforted and empowered.
I have various reading options available, ranging from 30-minute readings to 60-minute readings to group sessions. I also work with professionals to help them clarify business and life purposes.
I also work as a workshop facilitator and business and life mentor.
Book a reading here:
https://laurengraceinspirations.com/soul-deep-session/
I also support small to medium-sized business owners and service providers.
Over the years (20+), I have worked in radio, online, events, management, marketing, sales, and more, and I can provide guidance and training around these topics.
Find more information here: https://laurengraceinspirations.com/support-for-business/
Additionally, you can find out more about Lauren here.
Book a reading here: https://laurengraceinspirations.com/soul-deep-session
Website: https://laurengraceinspirations.com
Portfolio: https://laurengraceinspirations.com/portfolio
Email: Lauren@LaurenGraceInspirations.com 
To be a guest on The Afterlight Podcast.
The Afterlight is a Spiritual podcast on Divination, Angels, Mediumship, Magick and more. 
Contact The Afterlight
To be a guest, apply here:
https://theafterlightinstitute.com/apply-to-be-our-guest/
Facebook:
https://www.facebook.com/WelcometoTheAfterlight
Instagram:
https://www.instagram.com/the.afterlight/
Meet Michele
After moving to Bali, Indonesia in 2002, Michele Cempaka's whole life changed. She was initiated as a Reiki Master in 2007 and began practicing Shamanism after a powerful healing experience. A few years later, she was initiated by a Balinese Shaman priestess into the first level of priestesshood, which opened
Michele up to many magical abilities that allowed her to tap into people's subconscious minds and souls to assist them with deep healing & transformation. Michele currently lives in Puerto Escondido, Mexico where she teaches Shamanism, holds sacred  medicine ceremonies and hosts Spiritual healing retreats for women. She believes that when we follow our intuition and listen to Spirit, we can manifest the lives we truly desire. Her mission is to touch the lives of one million or more people, to assist in raising consciousness on our planet. 
Connect with Michele
Instagram: @spiritweavergal
Facebook: https://www.facebook.com/spiritweavergal
Podcast: https://mcempaka.podbean.com
YouTube @Michele Cempaka 
Website: https://www.spiritweaverjourneys.com